Boulder
History
The Boulder Valley was first the home of Native Americans, primarily the Southern Arapaho tribe, who maintained a village near Haystack Mountain. Utes, Cheyennes, Comanches, and Sioux were occasional visitors to the area. Boulder City was part of the Nebraska Territory until February 28, 1861, when the Territory of Colorado was created by the U.S. Congress. It developed as a supply base for miners going into the mountains in search of gold and silver. Boulder City residents provided these miners with equipment, agricultural products, housing and transport services, and gambling and drinking establishments.

Boulder Today
At 5,430 feet above sea level, acres of vast open space roll into Boulder's quaint cityscape, tucked into the foothills of the Rocky Mountains. Come explore pine scented trails, taste the flavors of "America's Foodiest Town," tour 24 craft breweries, stroll historic Pearl Street ,view Colorado State University Of Boulder's beautiful campus and soak up this creative community's laid-back lifestyle.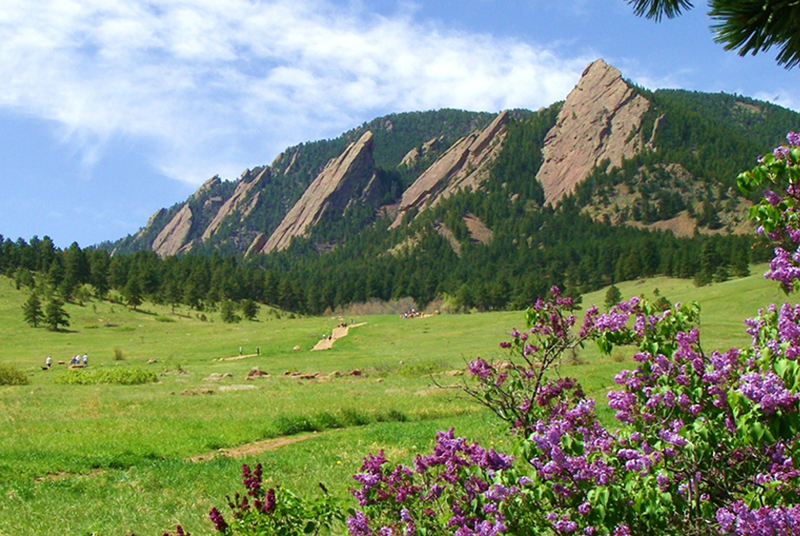 Things To Do
The brick-paved Pearl Street is the heart and soul of Boulder. It's a central gathering place where locals and visitors alike come to stroll and shop among the historic storefronts, dine at some of the best restaurants, sip coffee or simply people watch. See Boulder's beloved Flatirons, the slanting, massive slabs of sandstone that form the Boulder backdrop from just about any angle tend to have a slightly mystical effect on visitors. Gaze up at them from the hiking area's beautiful meadow, where dozens of trails lead off into the foothills, then hike right up into the Flatirons if you are seeking a bit more exercise and adventure. The historic Boulder Theater has been a stage for music since 1906, though in various incarnations. Today, the theater's art deco facade and neon marquis are almost as iconic to Boulder as the Flatirons. Architecturally stunning and full of lovely gathering spaces, the CU campus is worth a stroll though just to admire the setting.