Evergreen
History
Evergreen was formerly a Ute and Arapaho hunting ground until settlers homesteaded here around 1860. Its ranches and farms fed Denver's burgeoning population and its forests supplied the city with lumber. However Evergreen's beauty has been its most lasting resource. The community was named for evergreen trees near the original town site.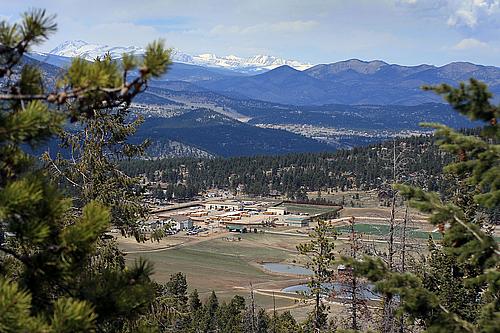 Evergreen Today
Evergreen sits at an elevation of 7,220 feet in the Rocky Mountains , 19 miles west of Denver. Evergreen provides a warm respite from Denver's big city bustle. Alpine meadows, cool forests and brilliant wildflowers create a natural backdrop for this thriving community. Evergreen boasts an eclectic community and a rich cultural existence with a local theater, arts, music and fine dining.
Things to do
For recreaton jog up to Evergreen Lake. This pristine jewel offers boating and picnincking in the summer, ice skating in the winter and enjoy fishing year-round. Evergreen Lake was created by damming Bear Creek in 1927. Drive up nearby Mt. Evans(14,624 ft) or watch as the Maxwell Falls cascade 76 ft into a rocky canyon. Camping, hiking, fishing and more. Downtown Evergreen offers its own temptations. The scenic Evergreen Golf Course, attractive galleries, shops, museums and nightspots.